Two inspirational stories from young Professionals in the UN
Lourds Donato, UNV Reimagine Education Officer at UNICEF Philippines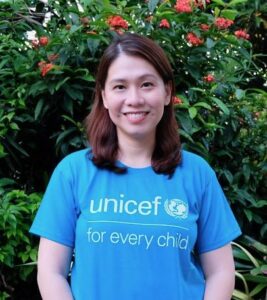 Every volunteering journey is various. We all have our motives for choosing this path at various seasons in our lives or careers. But at the end of the day, no matter what drives you to commit to serving, I would like to think that when you volunteer, you contribute to building a world where the most vulnerable are heard and paid attention to.
As I followed my professional career and academic goals, I have become painfully aware that not all children are provided with options to build the essential foundations for learning. Research and practice continue to show that inequality exists early on, especially in education. My decision to volunteer at UNICEF is rooted in these realizations, along with the desire to reach more children and spark more significant change on a bigger scale.
In my current role as Reimagine Education Officer, I am responsible for engaging in various initiatives that concentrate on digital learning. I provide sponsorship and initiate efforts that capitalize on technology to build the foundations of literacy and numeracy for all children, including children with disabilities.
The role truly resonates with my belief in giving children all the best chances now to survive, thrive, and achieve their possibilities so that they may become productive members of their communities in the future. Through this volunteer journey, I have learned first-hand how the work for children is always cooperative and goes beyond what you think is best. Volunteering is about listening and putting value to voices other than your own, about starting difficult conversations to be able to move forward, and about moving with urgency in every step of the process because service is always needed by many. Some results are visible and immediate, while some programmes may take time before being considered successful, but no effort is ever wasted.
For those who are already volunteers or are thinking of seeking to volunteer full-time, I encourage you to go beyond the "high" that volunteering gives you. Seek further studies, become more intentional about the things you read and watch, and establish your own principles and beliefs on what an equitable world looks like. Acknowledge that you are coming from a position of privilege and responsibility where you can step back and listen to the voices of those left behind. Include beneficiaries in decision-making processes to help them live in a world that sees them and allows them to thrive. It takes a certain level of maturity and openness to volunteer, so I motivate you to go beyond the comforts of what you know and what you have experienced to be able to immerse yourself fully in the cause you believe in. At a time when events and realities push us away from each other, volunteer to be the force that sparks the change the world needs to heal and bring everyone together.
Read also: Diversity and Inclusion at UN
 Alexander Robert Campbell, Project Manager at UNOPS
"For the young and talented out there, I believe that the best way to build your career is to get 'field experience' as we call it in the UN. You need to live and work in various developing countries for a number of years, getting hands-on exposure to economic, social, and environmental conflicts"
As with many people who work in development, my career path has not exactly been linear. Job possibilities where you can actually make a difference come along every so often, and you need to be as geographically mobile and occupationally flexible as possible in order to capitalize on them.
I started my career studying environmental chemistry/economics and interned for a multinational corporation in Mexico, working at a factory for 5 months helping the environmental management team. I continued with the same company and worked in Sri Lanka and Switzerland on short projects, before settling down in Vietnam. After 2.5 years there, I wanted to hone my sustainability skills, so I applied to master's programs in Europe and got accepted to a university in Sweden. During the masters, I met a number of Colombians who were passionate about sustainability, so after the degree, I arranged to move to Colombia with them and start a consulting company.
Our vision for the consulting company was to pool our skills to support Colombia in integrating environmental and social factors in the post-conflict paradigm. We had a team of business people, engineers, and a scientist working with the objective of tackling socio-economic-environmental problems from an integrated and interdisciplinary view and I was the Executive Director. Colombia is an emerging market and natural resource exploitation is one of the 'economic locomotives' of the country. Our team found that there had been multiple cases of environmental disasters, neglect of human rights, negative social outcomes, and economic externalities in the past related to mining. We projected that with lasting peace on the horizon after over 50 years of internal conflict, a resource grab by domestic and foreign companies was unavoidable. Left unchecked, this could result in wealth being generated for the few, while the masses suffered from socio-environmental consequences and unfavorable working conditions. We positioned ourselves as consultants who would be able to promote sustainable natural resource management for the good of the environment, the people, and society.
After 18 months in Colombia, I came across the United Nations Office for Project Services, the operational arm of the UN and its partners. It was a perfect match for my career goal to have a measurable impact on assisting those in need and after working here for some time, I can say that it is where I belong.     
I grew up as an immigrant in Europe, traveling quite considerably as a teenager. By the time I was in high school, I had already become used to seeing absolute poverty and landscapes that had undergone environmental degradation. I knew that I couldn't sit on the sidelines and made it my life mission to help those in need. By the time I got to university, I was consumed with the thought that a person is the sum of their actions and that unless you have a positive effect on the world, life would be without meaning. It forced me to devote an inordinate amount of time to finding environmental internships in growing countries, which kick-started my career.
Having a global view is the absolute most significant part of sustainability and development in my opinion. Being able to see things from another person's perspective, especially someone who lives in very diverse conditions than your own; sheds light on our common humanity. For example, when you live in a country prone to conflict, such as Colombia or Sri Lanka, you see internally displaced people at every traffic light. Many people, especially locals, are so used to it that they see right through them as if they didn't exist. Even after years of living in those areas, I constantly question how they got there, how could they have prevented getting there and what can be done to make sure other people don't find themselves in the same situation. The same can be said about the environment; some people see an open pit mine and say that it's necessary to support our standards of living. Although I do agree with this to a certain point, I never stop questioning the systematic conditions that got us to where we are, the alternatives to our current development and what can be done differently to better our lives, society, and planet.
As my parents are Canadian, my first impulse came from the biologist David Suzuki. Watching his weekly show called "The Nature of Things" cemented the importance of nature and the environment from a very young age.
My second inspiration was my mentor and master's thesis director, Alan AtKisson. He's a sustainability entrepreneur based in Sweden and his positive messages and charisma instill hope that solutions to global problems can be found through interdisciplinary cooperation and system thinking.
I absolutely love the fact that I can go to work every morning and know that I am working for an organization that is invoking transformation and bettering lives on a global scale, not just making money to satisfy shareholders. In the past when I was consulting for a multinational, I submitted a suggestion that resulted in millions of dollars being saved by firing 60 contractors in an economically depressed area of a developing country. In return, all I got was a pat on the back and a contract extension for 3 months, while 60 families went without. Meanwhile, the 12 foreign vice presidents of the company continued flying around the world in business class and staying at 5-star hotels.
At the UN I can measure my impact not on dollars earned or saved, but on how many projects I can help that result in sustainable outcomes and increased national capacity. 
In terms of what I could change, I am currently about to begin my 18th job contract in 10 years. Travelling is great, field experience is great, but Rome wasn't built in a day and there is only so much influence you can have on a short contract. As I've worked in 8 countries on 4 continents I have seen a global trend that organizations are increasingly relying on contractors instead of permanent staff to accomplish their goals. They do so because they say it introduces better flexibility in the workforce, but I would like to stop thinking about where my next contract/paycheck is coming from and start actually dedicating myself to enforcing sustainable solutions over the long term.
As my measure for success is influence, a highlight of my career was when I worked in a factory to substitute 4000 tons of coal for alternative fuels. This project made me realize that if you want to have a major impact, you ought to work for someone who has the possibility to assist you in achieving your goals. If you are a global citizen, you need to work on a global scale and find an employer who has a global presence. That is why working at UNOPS is even more rewarding. Knowing that I can simplify humanitarian operations around the world every day is extremely fulfilling as the impact of the work being done by UNOPS is staggering. For the past 18 months, I have been managing a project to compare the implementation of public procurement systems around the world, with the goal of determining and spreading best practices. The project has the potential to revolutionize how public funds are spent, as it will facilitate the adoption of performance-enhancing reforms in many countries; tackling fraud, corruption, and waste on a global level.
For the young and talented out there, I acknowledge that the best way to build your career is to get 'field experience' as we call it in the UN. You need to live and work in various developing countries for a number of years, getting hands-on exposure to economic, social, and environmental conflicts. Integrate with a culture that is completely different from your own, learn a language that is completely foreign, date someone from another country, and live in conditions that may not be what you are conditioned to. It is the best way to build character, get solid experience, and get hands-on knowledge of both sustainability and international development.
If you want to start your Career at the United Nations, Please click here.