What is life like in the United Nations – Advantages and UN Structure
Short details about the UN establishment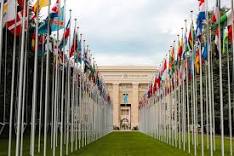 In 1942, representatives from 26 countries signed the Declaration of the United Nations, marking the first usage of the term "united nations." It wasn't the first time the international community had attempted to come together, but the League of Nations, which had been founded in 1920, was failing. The League had its final meeting in 1946, one year after the signing of the United Nations Charter. Three years later, as WWII came to an end, the Universal Declaration of Human Rights established universal human rights and freedoms. Since those early days, the UN has sought to gain four goals: maintain world peace; develop friendly relations between nations; support nations to improve the lives of the poor and promote rights and freedoms; and serve as a center for accomplishing these goals.
Read also: Diversity and Inclusion at UN
The United Nations Structure
The UN is the world's largest and best-known intergovernmental association, which is a kind of organization made of sovereign states founded by a treaty.
The UN has five main organs:
The Economic and Social Council
This organ debates economic, social, and environmental challenges and issues policy guidance. The World Health Organization (WHO) and the United Nations Educational, Scientific and Cultural Organization (UNESCO) are specialized agencies within this council.
International Court of Justice
As the judicial organ of the UN, the Court settles legal disputes between States and offers advisory ideas to the UN and its agencies.
The General Assembly
The GA is the main deliberative body. It consists of agents from all the Member States. Each State gets one vote. It's based at the UN headquarters in New York City, New York.
The UN Secretariat
This organ is made of staff illustrating all nationalities who work at duty stations around the world. The Secretariat handles the everyday work of the UN and administers the programs and procedures. The Office of the High Commissioner for Human Rights (OHCHR) is part of this organ.
The Security Council
Made of 15 Members, the Security Council is accountable for keeping international peace and security.
Read also: Ultimate Guide to Land your dream job at United Nation
Benefits of working at United Nation
High salary
There's a wide range of salaries within the UN system, but generally, the pay is adequate. The UN has a specific pay structure for Field Service and Professional & higher categories. The salary level for Professional staff is set by directing to the highest-paying national civil service. The salary scales for (P) jobs are based on five grades (P-1 to P-5) and two Director levels (D-1 and D-2).
Entry level (P1 – P3): 37,000 USD – 80,000 USD
Mid-career (P4 – P5): 67,000 USD – 106,000 USD
Senior level (D1 – D2): 95,000 USD – 123,000 USD
You can look for salary scales for specific years on the UN's Salaries, Allowances, Benefits, and Job Classification website. Depending on where you live, even a salary on the lower end can go far.
Other great advantages of working at the UN
Many UN careers come with outstanding advantages. Not every job comes with the same perks, but the UN is known for good remuneration packages. Benefits can include:
Dependency allowances for suitable spouses and/or children
Travel and shipping expenses when you're moving from a different duty station
Hardship allowances for working at certain duty stations
Hazard pay for hazardous and stressful locations
18-30 days of vacation time per year
Possible home leave travel
UN-sponsored medical insurance plans
Working for the UN comes with great advantages such as decreased language courses which you can take during lunch time and/or gym membership, yoga classes, and many more club membership offers. At the UN in Vienna for example there is a UN photo club, a sailing club, and of course a running club, my favourite activity during my lunch break.
Lunch at the UN headquarters is one of the coolest experiences, especially in NY where you might share the lunch table with an ambassador, a security officer, and/or the press officer of the UN. Everyone mixes and mingles; there's no hierarchy or seating order and you can have the most unexpected inspiring and fascinating conversations. In addition, the UN cafeteria provides a wide range of food, from a cook who organizes your fresh pizza in an often to a sushi master and, during summer times, an ice-cream shop.
Read also: Career path and required qualifications for United Nation
Affluent career opportunities
Within the UN system, there are 45 job "families" and nine job networks. Job families are occupations and sub-occupations grouped in a common work field. The job networks are flexible groupings of job families. The reason for this structure is so employees can get multidisciplinary options for new skills and experience within distinct parts of the UN. The nine networks are:
Management and Administration- Families include administration, audit, ethics, finance, and human resources
Economic, Social, and Development – Families include environmental affairs, social affairs, sustainable development, and statistics
Political, Peace, and Humanitarian – Families include civil affairs, rule of law, human rights affairs, and electoral affairs
Information and Telecommunication Technology – Families are media technology, telecommunications technology, and information management systems and technology
Legal – Families are jurists and legal affairs
Public information and conference management – Families include conference services, language, protocol, and public information
Internal security and safety network – Families are security and safety
Logistics, transportation and supply chain – Families are engineering, facilities management, human settlements, and transportation
Science – Families are medical and natural and life sciences
Incredible chances to travel
For those who've always wanted to travel the world, the United Nations is a great place to work. An employee will likely be required to travel at some point. The UN is also a great place to work if you've wanted to live in another country. Traveling opens you up to various cultures, food, languages, and experiences. There are offices in 195 countries, including:
Armenia
Bahamas
Chile
Djibouti
Greece
Nepal
Samoa
Zambia
Read also: Two inspirational stories from young Professionals in UN
Facilitating  justice and protecting human rights
Through its many entities, the UN is the world's largest organization working for human rights and justice. Whether you want to work in women's rights, public health, food security, sustainable development, or other alike areas, the UN has many career opportunities.
UNICEF (United Nations Children's Fund) – the UN fund focusing on children's rights and health
WHO (World Health Organization) – the specialized agency responsible for directing and coordinating international health in the UN system
WFP (World Food Programme)- the UN program focused on eliminating hunger and malnutrition
UNHCR (United Nations High Commissioner for Refugees) – the UN body responsible for protecting refugees